Edith Dekyndt
XY 03
As part of the exhibition 'LOUISE/EDITH. Held in high esteem', Edith Dekyndt creates a video, XY 03, drawing inspiration from the textile threads of the Ypres region, the portraits Louise De Hem made of her mother and the portraits of the religious, in the continuity of Flemish historical painting. She recreates, after almost 15 years, a video where we see her hands making the same movements as in 2008, only her hands have changed and no doubt the movements too.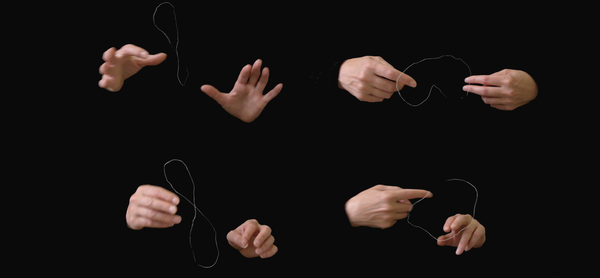 XY 01 and XY 02
The first piece in the series, XY 01, was made in 1995 and shown at the Ixelles museum. It involves a silk thread, positioned above a radiator. The silk thread draws regular curves through heat, curves that were reminiscent of the abscissae and ordi-nates of mathematical diagrams, hence the name of the piece. In 2008, on the occasion of an exhibition dedicated to her work at Witte de With in Rotterdam, Edith Dekyndt made a second video version of this piece, XY 02, in which a circle of silk thread moves between her hands, passing from one hand to the other, coiling, escaping, as if alive.
---
"Comment montrer la chaleur? En laissant flotter un simple filde soie au-dessus d'un radiateur.Nous nous trouvons alors confrontés à la matérialisation de la chaleur, et nous sommes en face d'un mouvement particulier, à la fois répétitif et aléatoire, fragile."
"How to show the heat? By floating a simple, silk thread above a radiator. We are then confronted with the materialisation of heat, and we are confronted with a particular movement, both repetitive and random, fragile."
Colette dubois in EDITH DEKYNDT: dans les plis de l'art et de la science, L'Art Même, 2008.
---
Exhibitions
Edith Dekyndt (Ieper, 1960) lives in Brussels and Berlin. Her works has been exhibited in international institutions like Biennial of Contemporary Art, Riga, Latvia(2020)/ Taipei Biennial, Taïwan (2020)/ Kunsthalle Hamburg, Germany (2019)/ BiennalSur, Buenos Aires, Argentine (2019)/ TANK, Shanghai, China (2019)/ Punta della Dogana, Pinault Collection, Venise, Italie (2019)/ Venice Biennale, Italie (2017)/ Museo Nacional de Bellas Artes in Havana, Cuba (2015)/ Toledo Museum, Ohio, USA (2015)/ Pulitzer Arts Foundation, St Louis, Michigan (2014)/ Kunsthalle, Vienna (2014)/ Cultural Center of Belgrade (2014)/ Biennale de Lyon (2013)/ Moscow Biennale (2013)/ MOMA, New York (2011)/ Mac's, Grand'Hornu (2009)/ Witte de With, Rotterdam (2009).
Solo
Recent solo exhibitions are: Aria Of Inertia, Chapelle de Laennec, Pinault Collection, Paris (2022)/ The Memory Of Everything In The World, Karin Guenther Gallery, Hamburg, (2022)/ Myodesopsies, The L-Project, Berlin (2022)/ Concentrated Form of Non-Material Energy, Stiftung St. Matthaüs, Berlin (2022)/ Visitation Zone (Part .2), 91.530 Le Marais, Le Val St Germain/The Ghost Year, Greta Meert Gallery, Brussels (2020)/ The White, The Black, The Blue, Kunsthaus Hamburg (2019)/ Blind Objects, Carl Freedman Gallery, London, (2017)/ 'They Shoot Horses', Konrad Fischer Gallery, Berlin, (2017)/ Air, rain, pain, wind, sweat, tears, fear, yeast, heat, pleasure, salt, dust, dreams, odors, noises, humidity, DAAD Gallery, Berlin, (2016)/ Ombre indigène, Wiels, Brussels (2016)/ Théoreme des foudres, Le Consortium, Dijon, France (2015).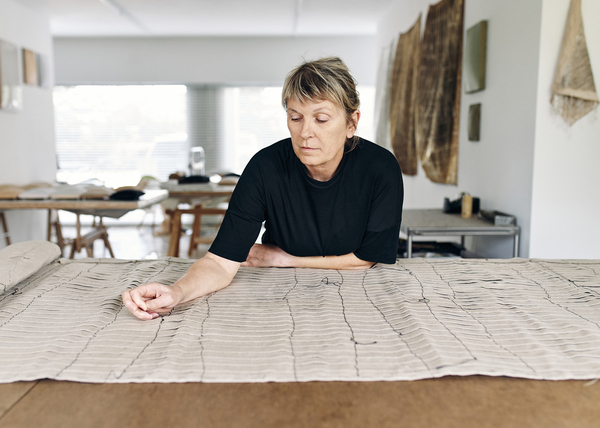 Collections
Her work is in public and private collections such as Centre Pompidou, (Paris)/ Moma (New York)/ Skulptur Park in Cologne/ Crandford Collection (London)/ Albright-Knox Collection (New York)/ CNAP, (Paris)/ Pinault Collection(Paris)/ Kunsthalle Hamburg, Germany/ Buffalo Museum, USA/ Kadist Collection (Paris)/ MUDAM (Luxemburg)/ Kunst Museum (Lichtenstein)/ Cadic (Amsterdam)/ FRAC Picardie, Lorraine, Bretagne, Pays de la Loire, Alsace and Reunion, (France)/ Mukha (Antwerpen)/ BPS 22 (Charle-roi).
Bibliography
Her bibliography includes several personal publications made during her career. Some of these include Edith Dekyndt, Source Book 8/ 2010, Witte de With, Rotterdam, with an introduction by Monika Szewczyk and Juan Gaitan/ I Rememeber Earth, Facteur Human Edition,Brussels, 2010, with an introduction by Nicolaus Schaffausen/ Les ondes de Love, Mac's, edited by Denis Gielen, 2009/ Ombre Indigène, Les Presses de réel, France, 2016, edited by Anne Pontégnie, Xavier Douroux and Dirk Snauwaert.
Artist in Residence
She was artist-in-residence at The Banff Centre for Arts, Canada, 2004/ University of Manitoba, Winnipeg, Canada, 2006/ Program Gallery, Berlin, 2007/ University of Nijmegen, Netherlands, 2011, University of Hasselt, 2012/ Akumal Artist Residency/ Mexico, 2012/ Ne'-Na Artspace, Chiang Mai, Thailand, 2013 and 2014/ DAAD Künstlerprogramm, Berlin, 2015-2016/ Pinault Fondation, Lens, 2017.
In 2019, she received the Finkenwerder Art Prize.
LOUISE/EDITH held in high esteem runs from 19 November 2022 to 12 March 2023 in the Royal Hall of the Yper Museum.