Louise strips
Women and nudes
Replacement exhibition on permanent display from 19 November 2022 to 12 March 2023. A visit to the exhibition is included in the Yper Museum ticket price.
The Yper Museum has always had a special focus on women's work and lives. When it was designed in 2018, it was a conscious decision to build one of its galleries around three striking Ypres women: Louise De Hem, Clara van Zuydtpeene Lamotte (who taught young girls lace-making to lift them out of poverty) and Leontine Permeke (photographer, mother of world-renowned photographers Antony and sister of Constant Permeke).
The Louise De Hem collection has a prominent presence in the permanent exhibition at the Yper Museum. As those works are temporarily moving to the Royal Hall for LOUISE/EDITH, the vacant space will be occupied by nudes. There is a good reason for this. After all, studies on nude models were forbidden territory for female artists in the 19th century. It went against all social norms of the time. Women did not have the same educational opportunities as men and this made it difficult to build a career. Louise De Hem took anatomy classes at the faculty of medicine on her own initiative. A creative solution to a gap in her education. Louise desperately wanted to learn nude drawing because, as an artist, you get a better understanding of human anatomy. This helps to depict movements fluidly and naturally.
In the Yper Museum's permanent collection, you are temporarily introduced to works by Theodore Ceriez, Jacques-Albert Senave, Egide Rombaux, Hélène Cornette, François Böhm, Pierre De Coninck, Edouard Hennaert, François Roffiaen and Maurice Langaskens. Usually, these works do not often leave the museum depot because they are quite fragile.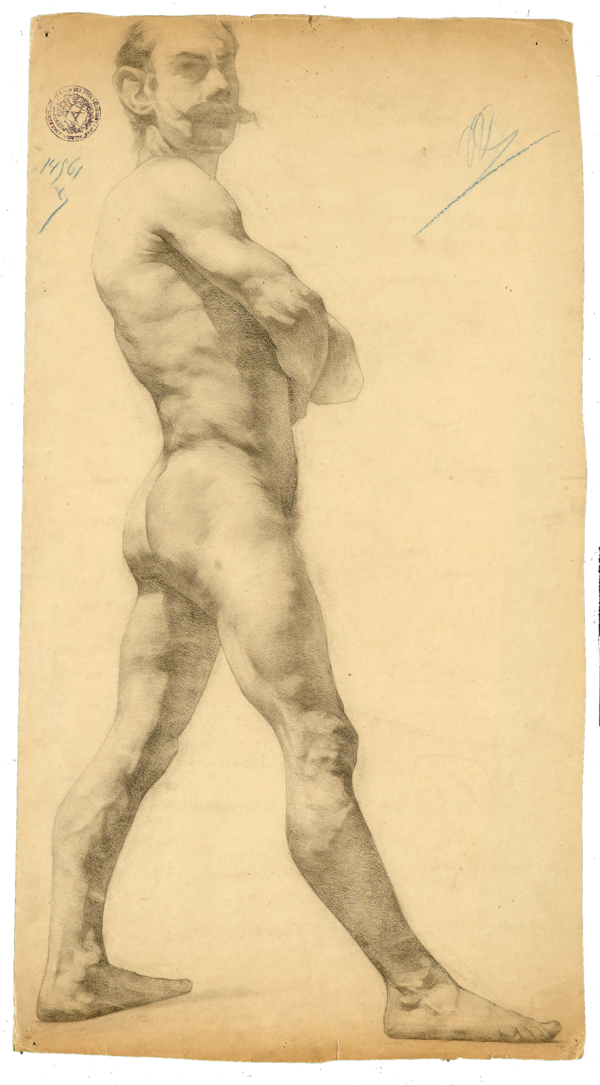 Maurice Langaskens, Study of a Male Nude, ca. 1904 (IFF 000469)